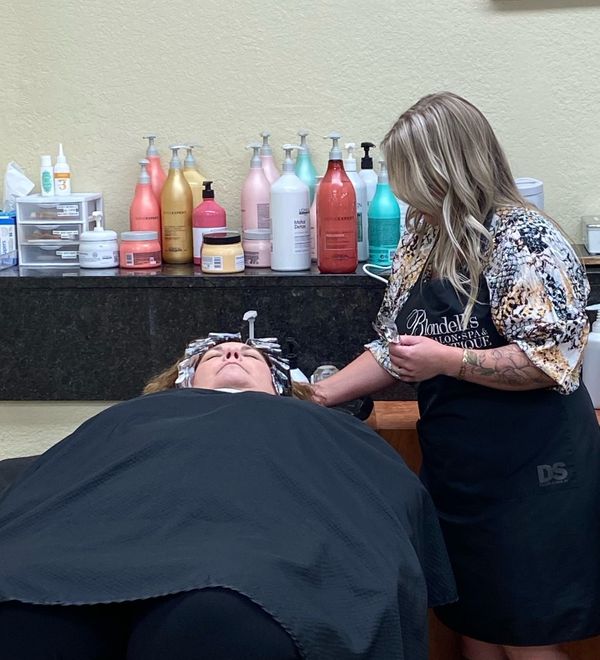 Color & Texture
Consider our stylists Salina's resident color experts. We know that a custom color service has the ability to transform your entire look and reflect the real you. Our talented team of artists stay up to date on the latest techniques and trends, such as the popular and low-maintenance balayage look. Perfectly-placed partial or full highlights can also be counted among our specialties. We know these color services appeal to clients looking for a subtle enhancement or those who draw inspiration from the full blonde spectrum. Above all else, we love working to make sure you leave with hair that provides confidence and allows you to enjoy a signature style.
COLOR
Color ---$52+

Whether it is just a regrowth touch up or an all over color application you are needing this will address both, with pricing starting at just $52.

Corrective Color

By Consultation

Full Foil--- $73+

For Highlights &/or Lowlights throughout the entire head.

Partial Foil---$58+

Adding a Pop of highlight or lowlight with less than 25 total foils.

Platinum Card--- $132+

Wanting to go Blonde ALL OVER?! This is what you are looking for! Also applicable for preparation for some vivid colors.

Balayage Color--- $94

A color technique used to hand paint highlights into the hair.

Men's Color---$25+

For those guys just wanting to cover or blend out those white hairs.
TEXTURE
Basic Perm---$86+

For hair less than 6" long and curl throughout the entire head.

Partial Perm---$71+

For hair less than 6" long and just wanting the top curled.

Straightening

By Consultation

Design Waves--- $111+

For hair longer than 6". We do encourage a consultation with your stylist prior to booking so that we can make sure we are going to give you your dream curl and meet your expectations.
- All texture services include a haircut in pricing